Welcome back, good people! The time has finally come - the crusade is about to end, and with it, my watch will (temporarily) come to a close. It's been a long journey, and I really hope this is just a moment of respite before David Production comes out with the (inevitably) incredible adaptation for Stone Ocean. Ah well, nothing to do but wait! In the meantime, let's take a look at our last remaining episode: Stardust Crusaders #48, "A Long Journey - Goodbye, My Friends"!
Hit it!
Here, Joseph's hat area is a little brighter, and the cast shadow is now bigger by a couple of pixels…: …while this shot is, obviously, completely brighter: Here both Jotaro and the background have been moved around, Jotaro's been drawn with some thicker lines and his ears have been retouched; on top of that, the coloring and shading on most things have been tweaked (check out Jotaro's hair-hat, for example): This scene cuts to Dio thirteen frames earlier; on top of that, the iconic Dio head scratching bit has been uncensored, there's more blood flying around and Dio's aura has also been retouched a little: The uncensored wounds and increased amount of blood are back here; on top of that, Dio's hair area is also darker: Moving on, the camera is slightly different in this shot, Dio's been slightly retouched, the aura is different, the missing nail dye is now present in some frames and the final couple of motions happen a little earlier: Jotaro has been substantially redrawn, here. I think I preferred the TV version, however: Jotaro has also been redrawn here; on top of that, the background is also different: Dio's eye and forehead have been substantially darkened, here: The sun is coming from a different direction here, and Joseph's ghost right hand has also been drawn: Jotaro's been once again significantly tweaked here (check out his BIGGER shoulders): Our buff dude is looking a little different here as well, and the background is slightly dimmer in the top-left corner: This touching scene of a grandchild saying goodbye to the spirit of his grandfather is now slightly more zoomed-in: Our big friend is looking sharper, here: This animation of Joseph's ghost turning around is slightly smoother, thanks to some more intermediate frames: Jotaro and the background are, once again, a little different here: In this brief animation, both Joseph and Dio have been drawn with slightly thicker lines, Dio's leg and Joseph's cast shadow are slightly darker, Joseph's wound is uncensored and now correctly appears only after he's been pierced and, as usual, there are more blood particles flying around: Later on, Jotaro's face has been retouched once more, and his whole part of the frame is darker: Dio's aura is once again slightly different, and Joseph's wound is uncensored…: This visually… intense shot has been slightly retouched here and there…: …and his eyes are now trembling as well:
Here, the shot is significantly more zoomed-in, and the camera movement itself is different too: Our boy is significantly less angry here: There's now a bright flash of light when Dio and Jotaro clash, and both of them move a little more after said flash: The World's aura is significantly dimmer here, and there are elements of Star Platinum that are now blurrier: The aura is dimmer here as well, and the bits of The World's fist have received the same fate here: Dio's hand has been uncensored, the usual blood particles are back and the aura is different once again, here: Dio's aura is very different, here…: Jotaro's been tweaked once more, here, and most of the smoke strands are a little more transparent: The background is brighter, here, and it's been moved as well: Dio's forehead has been shaded differently here, and most of the shaded bits on Dio's face are also a little darker: Jotaro's looking a little better here; on top of that the background's brighter and Dio's aura has a slightly different shape: Jotaro's been redrawn here, and the background is now animated: Jotaro's bones are way sharper here: Dio, Jotaro and The World's positioning is very different here: Jotaro's been redrawn once again in these shots: This shot starts out a little more zoomed in: Here, the… wind? Energy? Random effects? Well, whatever they are, they're more prominent in the BD version; on top of that, when the camera zooms in a little more Jotaro's eyes are brighter and the camera shakes around more: These cool punch (and elbow) rushes are now all brighter and sharper: This animation has thicker lines, a different distortion, the usual tweaked aura, some slightly vivid colours and, on top of that, there's a new impact effect (with distortion) at the end: This vaguely transgender flag-coloured Dio has some thicker lines: Dio's face has been redrawn here: The same has happened to our punchy boy, some frames later: Most lines in this shot are now thicker…: …while the aura around Jotaro's hand is now less visible: A whole bunch of things are looking better in this massive kick to the kneecap: This shot is slightly more zoomed in…: Dio's shading is a little darker here, his cast shadow a little less black and the dust effect is somewhat different: Jotaro's looking better once again, here: Many things have been tweaked in this scene of Dio being ONCE AGAIN split in half: Groovy! Here, on top of the slightly different aura on Jotaro and some brighter background, there's a new crack running through Dio's body at the beginning, accompanied by some new bright particles…: …on top of that, the explosion is, naturally, uncensored, and is now accompanied by some new effects: …and, to conclude it all, there's WAY more blood on the ground, at the end of it all: Let's check it all out in motion, shall we:
Love to see that little bastard explode. Anyway. Here, on top of the usual uncensoring and tweaked aura on Jotaro, there is once again more blood on the ground; on top of that, the background sky is a little dimmer, and once Dio's corpse catches fire (?), the flames also illuminate Dio's body and the surrounding ground. Phew! Check it all out: Most of the same changes are also present here…: Every car now has its taillights and headlights on, here: Here, Polnareff's face has been retouched, the head of the IV drip has been recoloured blue, some of the tubes on the right side of the frame have been shaded correctly…: …and the whole shot shakes around rhythmically, to better convey the motion of the van:
Jotaro's face and hat have been redrawn, here…: While here, a whole bunch of different things have been slightly tweaked, here and there! The shot is also slightly distorted, as usual…: …and, at the end of the animation, the doctor on the left is now just as shocked as the other one: Joseph's lungs (or at least, I'm guessing those are lungs?) on the left and right side are more visible, here…: This cardiac monitor has a much simpler display, here: The blood flowing through these tubes is now correctly animated…: …but, as you might have noticed, for some reason the tubes are completely see-through for the first three frames. Perhaps a small oversight on David Pro's part: Here, Joseph's face has been retouched and it's now visible through the mask; the shading on his right arm has been tweaked in the second image, the electrodes placed on his head have been tweaked and the three colored tubes going into his shirt no longer merge into the green one: Jotaro is no longer off-model here, and the background has been moved a little as well…: Jotaro's aura has been tweaked once again here, and the scene also has a slightly better contrast overall: The aura is a little dimmer here, once again…: Here, the shading on Jotaro is a little flatter as usual, and that tiny corner of his jaw on the bottom-right has now been correctly shaded…: …and, later on, we can see that, as it was more common in the Phantom Blood era, the end credits have been removed here, as the episode now instead has its separate regular ending: The camera movement is slower and more contained, here…:
And here, we have three cuts of Dio's corpse finally decomposing in the sunlight! All three have been uncensored, but we have a couple of individual differences: the first one has a darker bottom of the frame and the last one has some slightly different godrays. Check it out: The brightness and smoke transparency have been tweaked, here: Both Jotaro and Joseph have been retouched here, and the camera has also been moved slightly: On top of the absent credits, our dear French boy has been redrawn here, and the background has been moved slightly to the left as well: Here, most lines on Joseph are now slightly thicker and some details on Polnareff have been tweaked as well: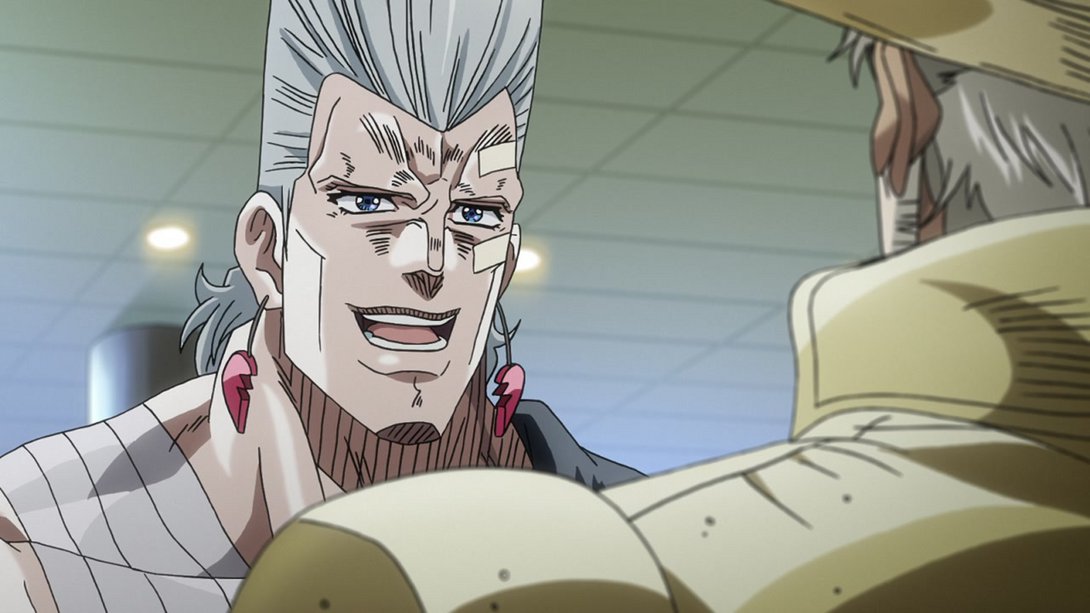 The same applies here, and most lines on Jotaro are now thicker as well: Joseph and Polnareff's tears are now slightly shinier: Most lines are thicker here, and it's Jotaro's time to be slightly retouched now…: …also, he no longer loses his right eyebrow towards the end of the same shot: EVERYTHING has been retouched, here! Check out Polnareff's butt especially: Most things have been tweaked here as well! In addition, the lines are a little blurrier and the movement seems to be a tiny bit smoother too: Here, the top of the frame is significantly darker and Suzi Q's face has been retouched…: …and, on top of that, the animation of Holly getting up is also veeery slightly slower, and Suzi Q now tilts her head upwards to look at her: The usual distortion is back here! Most lines are also thicker, and the general coloring/shading of the scene has also been tweaked somewhat. In addition, once Holly goes outdoors, the shot seems a little blurrier as well: The camera in this closing scene has been moved slightly up…: …and, on top of that, most of the other windows have been moved around slightly, basically every other passenger of the plane has been redrawn from scratch, a couple of errors have been fixed…: …the windows no longer leave a weird trail while zooming out, and the blue part of the plane is now sharper…: …and the wind effects have also been changed slightly: Beautiful! Let's look at it all together, shall we, for old times' sake:
Phew! And that concludes Stardust Crusaders #48, "A Long Journey - Goodbye, My Friends"! And a long journey it really was, my friends. I hope you had a good time following along during these past FOUR YEARS (!!!). It was a very fun project that occasionally burned me out, but I stuck with it and, in the long run, we got to the end.
But I don't believe this is quite the last time you'll be hearing from me… When Stone Ocean will be announced, you can bet I'll want to take a look at those Blu-rays as well! Either way, thanks for sticking with me until the very last episode! And, of course, this is not a goodbye, but merely a…